Thinking of exhibiting at InfoComm this year? You're in for a great time! Here are three quick facts about the largest professional audiovisual trade show in North America: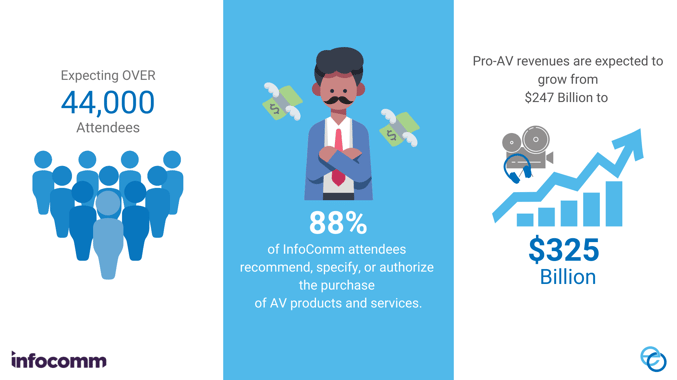 It's a big deal: The Las Vegas show is expected to draw over 44,000 attendees


Business is booming: Pro-AV revenues are expected to grow from $247 billion in 2019 to $325 billion in 2024.


Attendees have decision-making power: 88% of InfoComm attendees recommend, specify, or authorize the purchase of AV products and services.


We love this show: Scroll to the bottom to see some of the trade show booths we've built for Infocomm.


1. New This Year
Early Bird Pricing: Register from February 3rd to March 15th to snag Exhibit Hall Passes, Seminar and Workshop Packages, Three-Day Classes, Labs, and Tours at reduced prices.


Live Events Experience: InfoComm is pulling out all the stops with a brand new performance and presentation area. The Live Events Experience (LEX) will extend into the South Hall, providing entertainment AND showing off the latest AV technology.


New Exhibitor Pavillion: Gain visibility by exhibiting at InfoComm's New Exhibitor Pavilion, which include presence in printed/mobile maps, inclusion in mobile traffic-building activities, and other ways to help you gain exposure.


South Hall Upper Level: Take advantage of traffic visiting the LEX, checking out the New Exhibitor Pavilion, heading in from shuttle drop-offs, picking up badges, and more with this strategic new location.
2. Trade Show Booth Design Trends
Want to outshine the competition at InfoComm? You'll need to stay ahead of the trends! Here's what's hot this year:

Experiential Booths: Elaborately themed booths provide an immersive experience for attendees that transports them beyond the walls of the trade show hall. Draw crowds at InfoComm 2020 by creating a world of your own.


Exhibits that Tell a Story: As marketing shifts to embrace a more organic, customer-centric buyer's journey, so have trade show exhibits. Rather than acting as a four-walled billboard, use a thoughtful layout to tell your brand story while guiding attendees through your exhibit.


Cause Marketing: Tap into the power of cause marketing by aligning your booth with a cause relevant to your brand. Issues like sustainability, hunger,diseases, inclusivity and more can tap into the hearts of attendees and set your exhibit apart from the masses.


The "Un-Booth": Create a hangout space, a gaming station, a meditation room, a dance party—anything but a booth! Your "un-booth" is sure to draw attendees with its intriguing appearance and plenty of "buzz."
3. INFOCOMM 2020 Show Schedule & Exhibitor Moving Hours
Exhibitor Move-In Hours: (Targeted Move In)
Day, Date

Time PST

Wednesday, June 10

1:00 p.m. – 5:00 p.m.

Thursday, June 11

8:00 a.m. – 5:00 p.m.

Friday, June 12

8:00 a.m. – 5:00 p.m.

Saturday, June 13

8:00

a.m. – 5:00 p.m.

Sunday, June 14

8:00 a.m. – 5:00 p.m.

Monday, June 15

8:00 a.m. – 5:00 p.m.

Tuesday, June 16

8:00 a.m. – 5:00 p.m.
| | |
| --- | --- |
| Day, Date | Time PST |
| Wednesday, June 17 | 9:00 a.m. – 5:00 p.m |
| Thursday, June 18 | 9:00 a.m. – 5:00 p.m |
| Friday, June 19 | 9:00 a.m. – 4:00 p.m. |
Exhibitor Move-Out Hours:
| | |
| --- | --- |
| Day, Date | Time PST |
| Friday, June 19 | 4:00 p.m. – 11:00 p.m |
| Saturday, June 20 | 8:00 a.m. – 5:00 p.m |
| Sunday, June 21 | 8:00 a.m. – 5:00 p.m |
| Monday, June 22 | 8:00 a.m. – 1:00 p.m |
Inbound Shipping Information:
Warehouse receiving hours 7:00 a.m. to 2:30 p.m., Monday-Friday.


Materials arriving after June 3, 2020, will be received at the warehouse with an additional after deadline charge.


Drivers must check-in no later than 2:30 p.m. in order to be off-loaded on arrival date.


Shipping Address:
Exhibiting Company Name / Booth # _________
INFOCOMM 2020
C/O FREEMAN
6675 W Sunset Rd
Las Vegas, NV 89118


Show site materials delivery: June 10, 2020
Shipments sent directly to the Las Vegas Convention Center will be received.


4. INFOCOMM 2020 Important Deadlines
Date
Deadline Items
1/10
100% exhibit space payment due
3/27
Exhibitor Booth Space Sharing Form due to Show Management
4/24
Exhibitor Directory Deadline:
Update Your Listing for the printed Show Guide and Mobile app.
Go to: Exhibitor Registration Dashboard
5/03
Multi-Level & Covered Booth Application due to LVCC
5/08
Before Hours Event Request Form due to Show Management
Booth Alcohol Service Request Form due to Show Management
Booth Variance Request Form due to Show Management
Exhibitor Appointed Contractors Work Authorization Form due to Show Management
Lights Out Request Approval Forms due to Show Management
5/13
Freeman Accepts Shipments at Warehouse
5/15
Certificate of Insurance due to Show Management
Buttine Exhibitor Liability Insurance Application Due
5/17
Incentive Deadline for Cox Internet, Wi-Fi Hotspot and Voice/Video Product Order
5/20
Incentive Deadline for Advanced Freeman orders – Carpet, Exhibit Packages, Furnishings, I & D Labor, Booth Cleaning, Signs & Graphics, Rental Exhibits, Fabric Solutions, Hanging Sign, Digital Graphics, Compressed Air/Water/Drain, Electrical Service, Light and AV Orders
Off Target Move-In Request Form
5/22

Exhibitor badge mailing request via exhibitor registration site deadline

Deadline to request company badges mailed directly in advance of the show (see Exhibitor Registration Dashboard)
6/10
Freeman Accepts Show Site Materials Delivery
6/16
Exhibits Must be Complete
6/22
Exhibitor Move-out Deadline
Outbound Carrier Check into the Marshaling Yard
5. Things You Should Know
Use THIS GUIDE to register your booth


The Exhibitor Service Desks are located in North 4, Central Hall Tunnel and South Hall upper (Near booth S1139).
Exhibitor staff that are already on the exhibit floor before 8:00 p.m. may stay as late as they wish, but, will not be readmitted once they leave the Show floor.


Freeman will control access to the show site loading docks in order to provide for a safe and orderly move-in/out.

During move-in, Freeman will unload exhibitors' items from exhibitors' vehicles and deliver them to their booth.
During move out, Freeman will collect exhibitors' items and transport and reload them to exhibitors' vehicles. Order forms can be found under Labor & Material Handling in the Exhibitor Services Manual.
IMPORTANT NOTE:
Only full-time employees of the exhibiting company will be allowed to hand-carry items.
The use or rental of dollies, flat trucks and other mechanical equipment is not permitted.
Trade show booths at infocomm: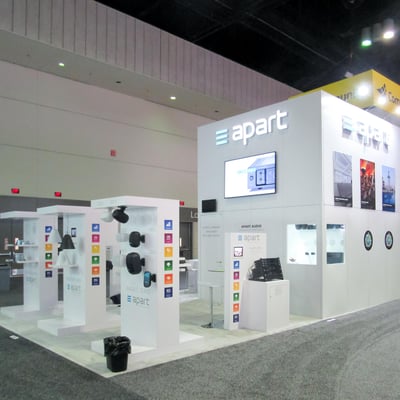 Apart's 20x30 split-island booth with multiple high tables for discussions and product demos, AND a private sound room for an audio experience.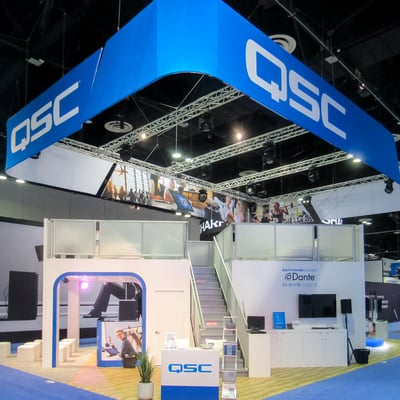 QSC's 30x50 two-story island booth focused on product demonstrations with both private and open spaces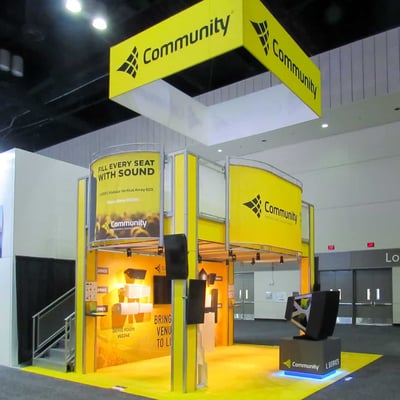 Community 20x20 two-story split-island booth with demo and meeting areas
Important Resources
With these trade show tips in your back pocket, you're officially prepared for InfoComm 2020. If you could use a little help with your booth design, logistics, or anything else, please don't hesitate to reach out. We're happy to help!